Nowadays, most banks, including e-wallets companies, impose convenience or transaction fees on their online users. 
If you are the type who wants to save a few pesos for your digital transactions, I have found a way to avoid the service charge for a fund transfer to your ShopeePay Philippines e-wallet.
While the amount involved may seem immaterial, this is still a saving, given the economic difficulties we are in because of the pandemic.
Read: Send Money from ShopeePay to any Banks or e-Wallets for Free
How to Transfer Cash from PayMaya to ShopeePay Philippines for Free
A. 
Open your ShopeePay Philippines account
1. Click Cash In;
2. Click Payment Center/ e-Wallet > Confirm;
3. ShopeePay will direct you to the list of accredited payment partners. Select ECpay and hit Confirm;
4. Input the desired amount for transfer and tick Pay Now;
5. Check if your email address, fund transfer amount, and Payment Method are correct, as displayed in the email verification window. If all information is accurate, click Pay; 
6. The system will show the Payment Instructions with the QR Code;
B. 
 Access your PayMaya account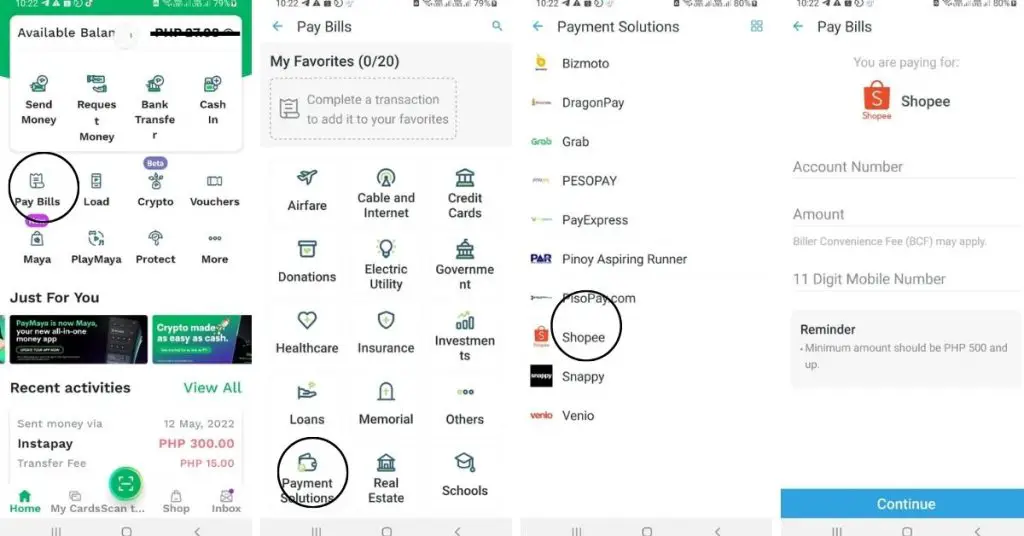 7. Click Pay Bills;
8. Select Payment Solutions > Shopee;
9. Fill out the required data
 

Account No

. – refers to the Reference Number on the Payment Instruction

 

Amount –

 based on your Shopeepay fund transfer amount

 

Mobile No. 

 Click

CONTINUE
10. Wait for the confirmation of your successful payment to ShopeePay Philippines e-. Check if PayaMaya deducted your wallet of the cash transfer;
11. Check your ShopeePay account balance. The fund transfer should be credited in real-time.
Final Thoughts
Now that you know how to transfer cash for free, you are more empowered to manage your cash flow efficiently. Remember, those small savings could buy more household essentials and food items for you when those are accumulated.
With the 5.15 Payday Sale around the corner, it is time to load your ShopeePay wallet from your PayaMaya (now Maya) funds for free. Enjoy big discounts and free shipping when you check out during the 5.15 PayDay Sale.  Visit Shopee here:  https://shope.ee/10OAN6bYNF
Happy Shopee-ing!