UPDATE:  As of January 2022, the 7-Eleven's CLIQQ kiosk charges 1% of your total cash-in amount
as convenience fee.
Gcash Convenience Fee / The pandemic changes how we do our financial transactions. Online banking and mobile wallets are essentials more than ever, in this time when we need to stay at home to avoid face-to-face interaction.
Because of the online trend, mobile wallets like the Gcash app experience a surge in usage and transactions.  With the increase in Gcash users, over-the-counter cash-in transactions in the kiosk and other cash-in channels have increased in the same magnitude.
Call it a business strategy.  But effective May 17, 2021, Gcash users will have to pay a 1% convenience fee for over-the-counter cash-in made via the 7-Eleven's CLIQQ kiosk or mobile app nationwide.
The fee is computed based on the total cash-in multiplied by 1% and automatically deducted from the cash-in proceeds of the Gcash account.  Additionally, the existing 2% convenience fee for transactions exceeding P8,000.00 remains in effect.
Convenient and Safe Cash Money Transfer
As an entrepreneur, I paid most of my bills online. GCash makes it convenient and safe for me to settle my outstanding obligations on time. But there is one limitation. Gcash users are not allowed to put in huge money in the e-wallet. So, a regular Cash-In transaction is the order of the day.
Now, with another burden looming on the horizon, the extra fee would put a dent in our tight budget. The convenience fee may look like a small amount but may become material in the future.  Saving in whatever form and means is essential in this challenging time.
How to get away with the 7-Eleven's Gcash Convenience Fee
I found a way to avoid the convenience fee when using 7-Eleven's CLIQQ kiosk or mobile app for my cash-in transaction.  Cash-in to your CIMB Gsave account and Withdraw the cash-in amount. The proceeds will automatically credit your Gcash wallet.
Note: The convenience fee of cash-in to your CIMB Bank account is still waived at this time.
GSave Account
The partnership of Gcash and CIMB Bank facilitated the creation of the GSave account, which can be opened and maintained straight from the GCash app.
GSave account holders enjoy higher interest rates as compared to commercial banks. Moreover, GSave clients enjoy no initial deposit, no maintaining balance, no lock-in period, and a convenient fund transfer option to and from their GCash wallet.
GCash Mastercard
Do you want to withdraw funds from your Gcash account for personal use? Or you cannot shop online because it only accepts debit or credit cards as a payment option?
Now, Gcash users with fully verified accounts may avail of a GCash Mastercard, which they can use to withdraw cash from BancNet or Mastercard ATMs nationwide. They can also use the GCash Mastercard for in-store purchases or online shopping.
Your Gcash account is more flexible. You have an e-wallet and a physical card at the same time.
You can get the Gcash Mastercard from any of the following channels:
GCash app
Online GCash Mastercard application
Selected partner convenience stores
How to make a cash-in transaction via 7-Eleven's CLIQQ app without paying the 1% Gcash convenience fee
To avoid the service fee, you need to have a GSave account linked to your Gcash wallet.
Download the CIMB Bank App and create a bank account;
Go to the bank's home page and click "Link my GSave account";
Follow the succeeding instructions until your Mobile Personal Identification Number (MPIN) is generated*;
In the bank's Homepage, tap  "Cash-In" > "Over the Counter Cash-In" > 7-Eleven;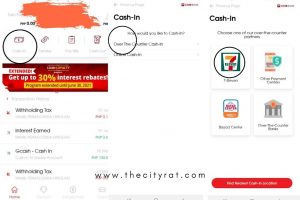 Select your GSave account number and enter the Cash-In Amount;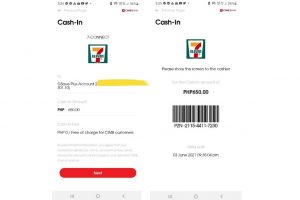 Tap "Next"; (Note: The app will generate a QR code that summarizes the Cash-In details);
Present the QR Code to the selected 7-Eleven store and pay the Cash-In amount;
Go to your GCash app > Sign-in > Tap "GSave" > "Withdraw";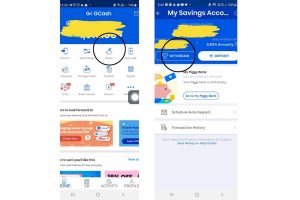 Key in the amount that you want to Cash-In to your Gcash account. The proceeds is credited in real-time.
Gcash Convience Fee / Additional Notes
The MPIN is used to access your CIMB Bank account. Never give out he MPIN to anybody to prevent unauthorized access to your bank account.
The maximum cash-in amount is P10,000 per barcode. You are only allowed  up to five barcodes per day. So, it would help if you planned out your cash-in transactions accordingly.
Final Thoughts
Electronic money transfer channels have been around. It is only now, however, that they have become an integral part of our lives. Companies like GCash allow sending money to anyone and anywhere.
With the increased popularity of the service, most electronic wallet companies impose charges on selected transactions. It is all the more difficult for Filipinos to do what little they have to survive this pandemic.
I have found a way to save a little but believe me, the savings will improve my revenue in the future.
Want to know how to run ads on youtube? 
Please click here: https://www.andrewmurrayhq.com/how-to-run-youtube-ads/