We should appreciate the benefits of the cashless payment system now more than ever. It allows us to pay for our purchases by directly debiting our bank accounts or mobile wallets. This new payment scheme is safer and efficient, considering the health risks we are facing now because of the pandemic.
As more Filipinos use digital payment channels, ShopeePay, Shopee's mobile wallet, partners with ten lifestyle brands to provide users contactless in-store payments. Consumers can use the ShopeePay app at National Bookstore, Penshoppe, Sebago, Kipling, Digital Walker, MemoXpress, Puregold, Newstar Shopping Mart, OXGN, and Regatta. 
How to Pay using the ShopeePay app
Paying thru the ShopeePay app is easy. You don't need to carry cash to buy your favorite pants or shoes. Just follow the following steps to complete your shopping transaction:
Here are the two easy ways to Scan and Pay using ShopeePay:
A. Partner merchant scans user's QR code:
The user opens the Shopee app and taps the "Scan" icon

Click 'Generate QR Code'

Enter ShopeePay PIN

User shows the generated QR cde for the cashier to scan and waits for 

confirmation of payment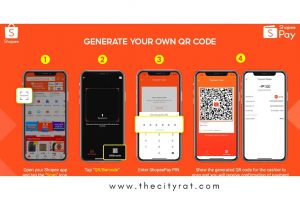 B. User scans the partner merchant's QR code:  
The user opens the Shopee app and taps the "Scan" icon;

Scan the QR code prominently displayed on the shop's tabletop card;

Key in the amount to pay and tap "Confirm."

The user enters a 6-digit ShopeePay PIN and waits for confirmation of payment.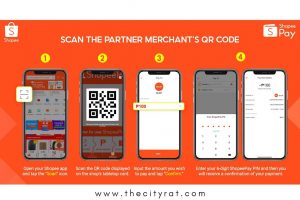 For a more rewarding experience, users who pay with ShopeePay via QR code for in-store purchases will get 20% coins rebate* (up to a maximum of ₱500 coins) until June 20, 2021.
Moreover, ShopeePay users can conveniently top up their accounts using their bank cards or other available channels to enjoy in-store payments more. 
Love this post?  Please PIN it.
Users can also enjoy the following benefits from May 24 – 27 during Shopee's 6.6 ShopeePay Cashless Festival deals: 
Free 

shipping vouchers – (with ₱199 min spend and daily 15% cashback deals)

₱1 deals 

from your popular brands (such as Jollibee, McDonald's, Chowking, Bonchon, and 

Domino's 

₱10 data 

for ₱1

for new digital buyers, and ₱5 load for ₱1 for all users

Up to 25% 

cashback on Bills Payment 
Please click here to know more information about Shopee's Scan and Pay. Check out the details about the 6.6 ShopeePay Cashless Festival thru this link. You may download the Shopee app via the App Store or Google Play. 
Show your LOVE and SUPPORT.  Please LIKE or SHARE this post.