Do you use a mobile wallet?  Have you tried BDO Pay?
After I retired from another bank many years ago, I completely lost track of anything about banking. I became busy with other things, which paved the way to change my career path.
But I still have my old and reliable ATM and credit cards, as well as my online banking account. Using the bank's digital channels makes my bank transactions easy, fast, and safe. I click a few keys on my laptop, and voila, my transaction is done.
The convenience of using the bank's digital channels can never be underestimated. You can do your banking transactions without going to the bank. Who would ever think that you can open an account in the comfort of your home? Call that innovative and responsive bank's gestures.
Online Shopping Using BDO Pay
Recently, I have been interested in a mobile or an electronic wallet. Due to the health crisis, we cannot freely move out of the house. So, we buy groceries and other household needs online.
I am happy using my BDO Pay account to pay for my online purchases from big e-commerce stores such as Shopee.
What is BDO Pay?
BDO Pay allows clients to link their BDO savings or checking account or credit card to pay for bills, online or in-store purchases, and send and request money.
It has Request Money and Split Bill feature. Now, asking people to pay you back has never been this easy and fast.
This makes BDO Pay different from big e-wallet companies such as Gcash or PayMaya, wherein you need to fund your wallet via Cash-in.
Related Post:  List of Banks that Waived the Inter-bank transfer Fees
Why Should you Get a BDO Pay Account?
You need a BDO account to use the app. If you don't have a BDO account, it is time to get one now. Here are the benefits of using the BDO Pay app:
Unlike stand-alone and big e-wallet companies such as Gcash or PayMaya, BDO Pay is managed by the country's leading financial institution, Banco de Oro (BDO), which Bangko Sentral ng Pilipinas supervises. Banking with BDO gives you a sense of security and pride, knowing your money is safe and your financial records kept confidential at all times.
You don't need to move in and out of various applications to transfer money from one account to another, whether an in-bank or out-bank transfer. My fund transfer transaction is done in minutes since crediting funds is real-time.
With BDO Pay, you avoid cash-in fees since the app is linked to your BDO account. You can pay anytime without having to worry if you have enough balance in your BDO wallet.
BDO Pay is safer than carrying physical cash when making in-store purchases.
How to Sign up for BDO Pay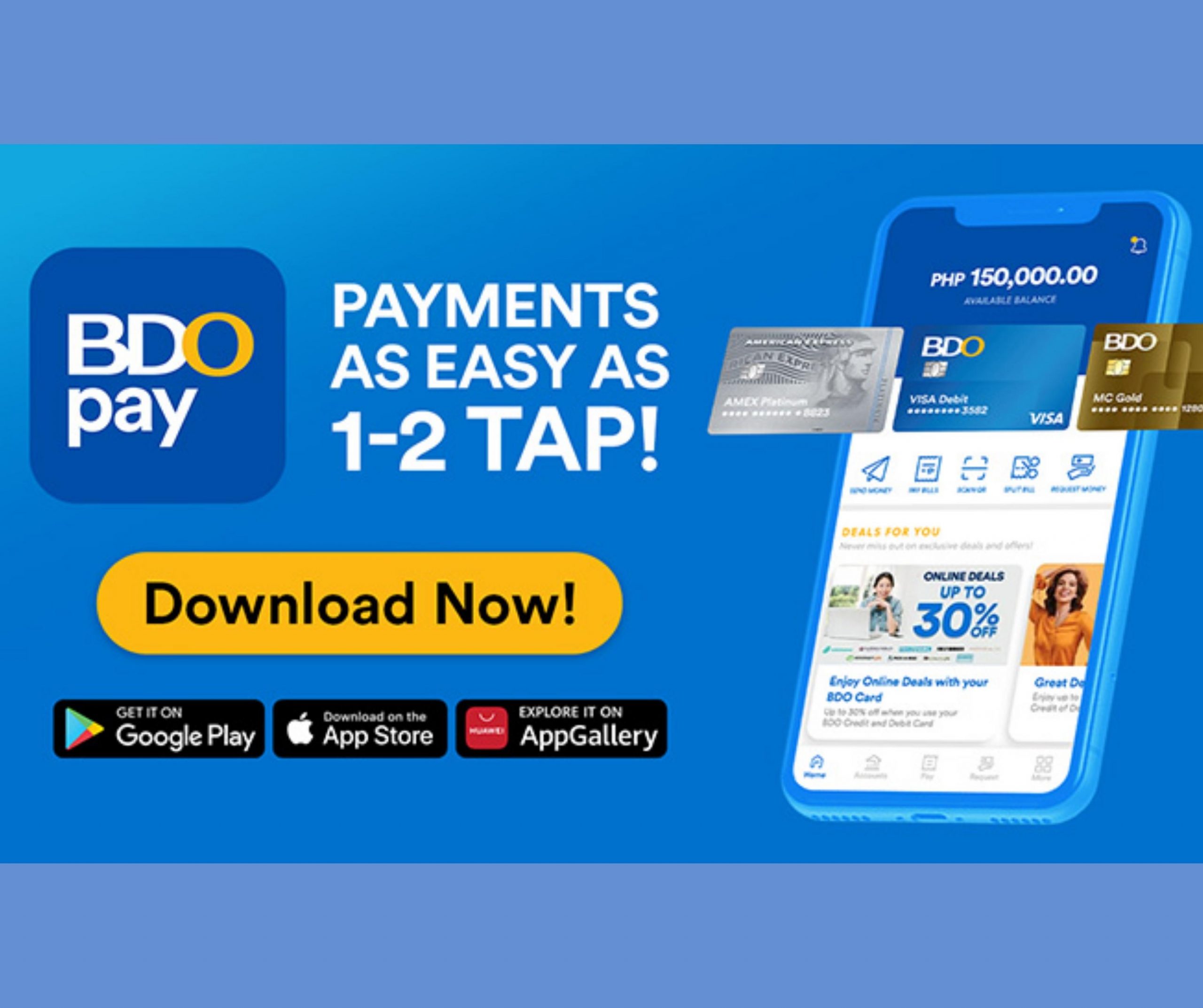 Get the BDO Pay for free on Google Play Store, App Store, or Huawei AppGallery.
Tap the BDO Pay icon and encode your BDO Online Banking credentials.
Link all your accounts, up to 40 accounts.
Watch:  How to Send Money Using BDO Pay
Final Thoughts
Download the BDO Pay app now and see for yourself how digital banking is done in the new normal.
Photos: from https://www.bdo.com.ph/