Get discounts up to 10% off only for Shopee Mom's Club members this March 21!
We want the best for our children. That's why proper nutrition is one of our topmost priorities. Starting them young is the best way to go.
The kids' pre-school years are ideal for developing healthy habits that will last a lifetime. Children tend to grow in spurts at this time, and their appetites can be intermittent. This is part of the growing-up process in children.
Healthy Diet for Pre-schoolers
If parents offer healthy food selections, their children will have viable options. Kids should be given the right amount of vitamins, minerals, carbohydrates, protein, and fat.
So what's the best recipe to power up your child's growth and development? Consider these nutritious alternatives:
Serve whole grains such as oatmeal and whole-wheat bread, rather than white bread, pasta, and rice.
Ensure to serve seafood, lean meat and poultry, eggs, and various vegetables on the table.
Choose fresh fruits rather than sugared fruit juice.
Encourage your child to eat or drink milk, yogurt, and cheese.
Ensure your Child is Following a Healthy Diet
Teaching your kids to eat nutritious food is challenging. Our busy lifestyle and the kid's food preference get in the way.
Without the support and guidance of parents, young children start to form opinions about what tastes good or what doesn't. Usually, kids end up liking unhealthy food.
Moreover, eating healthy becomes a secondary concern when both parents are busy. Families tend to grab food from fast-food chains, which promote overconsumption of calories and fats.
When you are desperate to give your kids the proper nutrition, Abbott Pediasure Plus and Similac Gainschool HMO will assist you in ensuring your children get the right amount of nutrients needed for growth and development.
Abbott Pediasure Plus Vanilla 2.4KG For Kids Above 3 Years Old Bundle of 6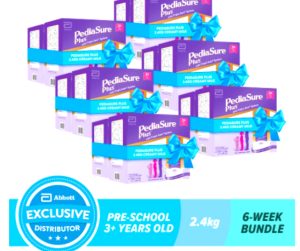 As the Number 1 Child Nutrition Supplement in the Philippines, Pediasure's Plus Vanilla 2.4KG For Kids Above 3 Years Old is clinically proven to provide a hard-to-feed child with optimal nutrition for healthy growth, development, and immunity.
With a glass of PediaSure Plus, you have a balanced and complete nutrition. PediaSure Plus contains macronutrients and micronutrients needed for a child to stay healthy and well-nourished.
Buy Pediasure Plus Vanilla on Shopee here >> https://shp.ee/9eauxgp
Abbott Similac Gainschool HMO 1.8KG For Kids Above 3 Years Old Bundle of 2
Now with HMO, an essential immune-nourishing ingredient, Abbott Similac Gainschool HMO 1.8KG For Kids Above 3 Years Old is vital in protecting your child's gut and beyond.
Similac Gainschool HMO contains a unique combination of DHA, Lutein, and RRR (Natural) Vitamin E. The DHA contributes to the maintenance of normal brain function. It has 10 Key Brain Nutrients with Eye-Q Plus like DHA, AA, Omega 6, Taurine, Choline, Iron, Zinc, Vitamins B1, B2, and B3, which help support a child's overall cognitive development.
Buy Similac Gainschool HMO on Shopee here >> https://shp.ee/act6edp
The faster kids learn, the faster they develop other skills! Make sure your child gets enough growth nutrients, only with Abbott.
Get the best deals only on Shopee Mom's Club! Sign up here: https://shopee.ph/m/mom-club.