---
A college diploma is significant for every Filipino household. When your son or a daughter has a college degree, you and your family are highly regarded in society.
While others have the means to support their children's education, others have to make both ends meet. Hence, their kids continue their college education.
However, getting a 4-year college education doesn't guarantee a job after graduation. One factor that hinders college graduates from employment is the job applicant's lack of skills and training needed by companies.
Because job skills are mismatched, new graduates end up as Cashier or Sales assistants – jobs that are not aligned with their education and skills.
More Skilled Labor Needed
Due to the increasing demand for skilled labor in the Philippines and the world, there is a need to professionalize the skilled labor sector.
The private Technical Vocation Education and Training (TVET) institutions believe that if the technical-vocational institutes are managed and monitored well, our country will be able to produce world-class and globally-competitive skilled graduates.
Highly-developed countries like Japan, Singapore, and Korea have revamped their educational system. These countries give importance to technical training, making their citizen self-sufficient and income-generating individuals.
To compete with our neighbors, we must evaluate the state of tech-voc in the Philippines. It is time to shift our focus on the labor sector. Now, the skilled and technical workers are in-demand and highly competitive in the country and abroad.
Tech-Voc Framework Revision
The implementation of the K-12 curriculum posed some issues between the Department of Education (DepEd) and the Technical Education and Skills Development Authority (TESDA).
These two government agencies provide basic education to the Filipino people. DepEd provides the theoretical side, while the TESDA is in charge of the technical and skills development.
Ever since the Philippines implemented the K-12 curriculum, the DepEd has gotten some resources from TESDA because the teachers are not yet ready to teach the tech-voc curriculum.
TESDA for Training and Licensing
To solve the overlapping function of the two government agencies, TESDA should be a separate entity from DOLE, DTI, and DepEd.
The skills development authority should be responsible for providing technical and vocational training and skills assessment to meet globally-competitive standards for all skilled graduates.
When skilled graduates have a professional license, they will be elevated from mere tech-voc graduates to professional practitioners. They can demand higher salaries and compensation from employers anywhere in the world.
Re-designing the Tech-Voc Curriculum
For TESDA to fulfill its mandate, the tech-voc curriculum must be two tracks – service-oriented or product-oriented.
Product-oriented tracks are designed to give income-generating projects to barangay folks. On the other hand, the service tracks focus on clerical and messenger-type skills.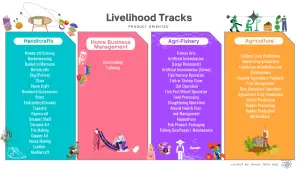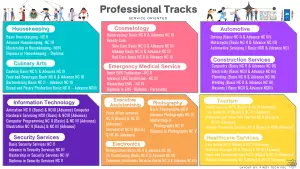 Investment in Technology and Digital Skills
Currently, lack of job opportunities and experts in tech-voc skills are the primary concerns. If TESDA is given free rein, the public office can perform its principal mandate faster and efficiently.
For example, in the COVID 19 recovery phase, there are opportunities for intelligent investment in tech-voc curriculum and training to "build back better" programs and systems.  Tech-voc may be able to help dropped-outs or reskill or upskill those who are out of work.
The training can also facilitate the skills necessary to adjust structural changes brought on by the COVID-19 pandemic.  Continued focus on ensuring the acquisition and development of foundational cognitive and socioemotional skills, which have become increasingly valued in the current health crisis, will improve chances of employment, among others.
Furthermore, investment in learning technology and digital skills of technical-vocational students and instructors can ensure lifelong access to learning and training opportunities and future workforce adaptability.
Final Thoughts
Suppose our TVETs conform to global standards and are just competitive with that of our Asian neighbors. In that case, there will be fewer OFWs because TVET graduates can establish their businesses and can get better-paying jobs locally.
TESDA should be independent of other government agencies to provide tech-voc education and training. But, other government offices can complement because agencies like DepEd help in children's primary education, while DOLE and DTI assist in employment and livelihood programs.
Good, high-paying jobs await qualified tech-voc graduates. If only they're given the proper support, the tech-voc track can also be a practical choice for young Filipinos who wish to lead independent lives.
We have so much to do toward strengthening our tech-voc ecosystem in the country. But with a bit of help and support from all the stakeholders, we are making small steps in that direction.
As we keep the discussion open to promote tech-voc to the youth to undergo tech-voc training, we hope that TESDA will promote tech-voc professionalism and implement licensing soon.
Hopefully, in the future, the state of tech-voc education in the Philippines will provide optimistic promises so that when someone asks young kids what they want to be when they grow up, we hope most of them will also answer that they would like to become a carpenter, a forklift driver or a farming technician.