Ready to become a real estate mogul from the comfort of your couch? Explore the world of property investment with the Real Estate Tycoon game.
Getting your foot in the real estate world isn't always easy, especially if you're just starting out. But what if I told you there was a way to discover the joys and challenges of real estate investing without spending money or taking any financial risk?
Enter the "Real Estate Tycoon" game, a virtual adventure that lets you build your property empire from the comfort of your own home.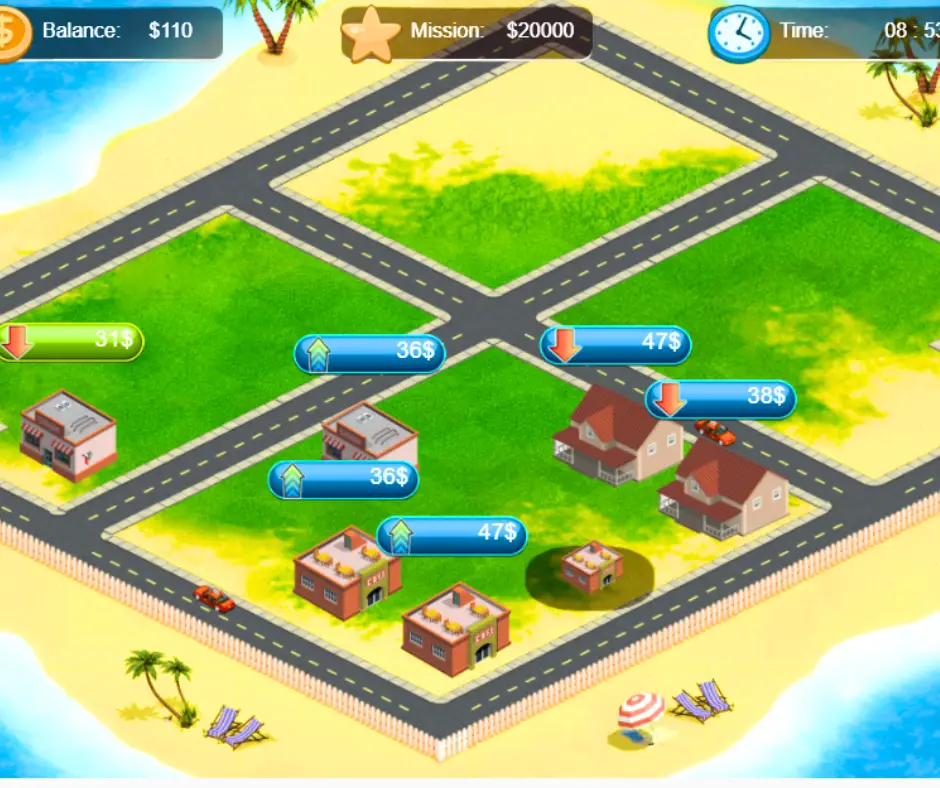 What is Real Estate Tycoon?
Real Estate Tycoon is an online game that allows players to experience what it's like to be a real estate professional. You can find it on the Mortgage Calculator website, and it's a game that combines planning, finance, and a bit of fun.
The goal is simple: buy and sell property to make as much money as possible. It's like Monopoly, but with a modern twist and real-world challenges.
How to play Real Estate Tycoon?
Real Estate Tycoon has intuitive gameplay. In Time Trial Mode, players begin with a starting budget of $100 and the goal is to make smart financial decisions that will earn them $20,000.
This involves buying property when it is cheap, and then selling it for a profit as property values rise over time. Strategic buying and selling allows players to grow their initial $100 budget into a real estate empire.
The basic premise revolves around leveraging market timing to maximize returns on investment.  As you progress, the game presents new challenges to overcome. This includes market fluctuations where prices rise and fall, as well as more expensive properties requiring more capital.
Players will need to adapt their strategies to deal with these changing conditions in the game.  To succeed, focus on planning to buy a few affordable properties that are difficult to pursue collectively rather than managing many affordable properties
Why you Should  Play the Real Estate Tycoon
 Educational Value
One of the standout features of Real Estate Tycoon is its educational value. If you struggle with numbers, this game can be a great learning tool.  It helps you understand the basics of real estate investment, property management, and financial analysis. It's a fantastic way to know more about financial literacy and investment skills.
Entertainment and Relaxation
The Real Estate Tycoon game is not only educational, but also entertaining. As a semi-retired person with some free time, I like to play to relax and have fun while also keeping my mind working on real estate ideas that I love .
This finance game offers a great way to casually game and unwind, while still engaging my mind in real estate – a topic I'm passionate about. The game provides educational value in a format that is enjoyable.
Level up your Financial Skills
The Real Estate Tycoon is a game that blends entertainment and education seamlessly. It provides an authentic experience in real estate investing, making it ideal for those who want to learn more about the real estate market.
Plus, as someone who have an accounting background, it's an opportunity for me  to sharpen my financial skills and have some relaxing fun.
How about you?
Immerse yourself in the world of virtual real estate, build your empire, and see how you fare in the competitive world of real estate. Who knows, you might discover some new strategies that could help your financial and wealth management in the future.
Enjoy the game!
Play Real Estate Tycoon and more games by visiting: this link:  https://www.mortgagecalculator.org/money-games/#realestategames.