Exploring Hinoba-an is incomplete without staying at Brazaville Beach Resort.  For local tourists coming in from Bacolod City early in the morning, this is a strategic place for lunch because you will reach the place at lunchtime.  So your tummy will tell you it is time to eat when you pass by this resort.
When my siblings and our respective families decided to visit Hinoba-an, Negros Occidental, we did not know what was in store for us. Primarily, our itineraries were based on what we saw on Facebook and friends' recommendations.  But we know our two-day, one-night stay should be at Brazaville Beach Resort.
We arrived at the beach past 1:00 PM and immediately ordered our late lunch. The front desk was very accommodating; the check-in process was a breeze. That was an advantage when you booked your stay in advance.
Since it was a lean month and rainy season, they let us occupy our assigned rooms early. Again, traveling during the off-peak period is always good because there are few customers, and you may even enjoy their promos and discounts.
Accommodation at Brazaville Beach Resort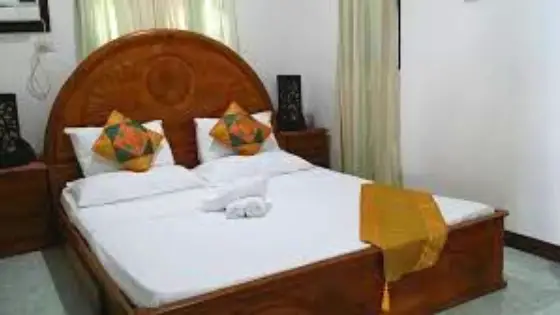 We were around 20 people – my siblings and their children. We got three family rooms for four guests, each room and one room for two.  The four rooms had a queen-sized bed, cable TV, and a decent WIFI connection.
The family rooms, which accommodated three persons, had extra beds, so each family stayed in one room. They have clean and crispy mattresses and blankets, too.
The bathrooms were spacious and well-maintained, and the area had a 24-hour CCTV system. After all, they are DOT-accredited for nothing, so it follows that they have superior facilities.
After eating our lunch and ensuring everything was in order, we checked the surrounding areas.
The resort has six family rooms, an expansive common living area, a big terrace, and a wide beachfront. The living area also serves as a dining area for guests and walk-in customers. On the other side, you can relax, sip a cold drink and watch beachcombers walk or play on the beach at the resort's big terrace.
On the beachfront, guests may play volleyball, stroll or run on the shoreline, or maybe chase the waves endlessly.  Watching the sunset while having a drink is very romantic, especially if you are with your spouse.
Watching the Hinobaan Sunset at Brazaville Beach Resort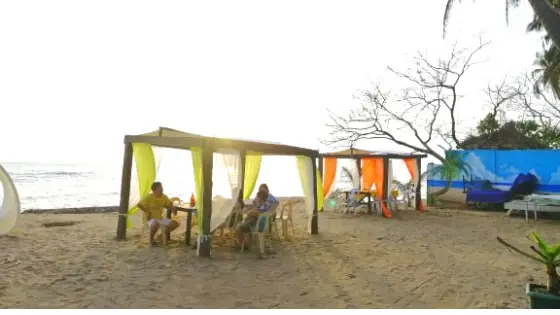 My wife and I always love the sunset. In Brazaville, you can witness the best and most majestic sunset view.  It is interesting to see how the colors change from blue, red, and orange to black or blue, signaling that another day has ended.  I appreciate how special and magical the love of God is working. I never miss taking pictures of this beautiful sight when I have the opportunity.
When the surroundings become black, I wonder how the sun slowly hides among the clouds or gradually swims down the ocean floor.  I feel sad seeing the sun making its graceful exit.
Candlelight Dining at Beachfront of Brazaville Beach Resort
As I've mentioned, the resort has a friendly and accommodating staff. I requested a dinner table arrangement at the beachfront.  We got a table arrangement prepared elegantly, with eating utensils used for fine dining. The canopy – an open structure with nipa as the roof was beautifully dressed in white curtains.  It has multi-colored bulbs, serving as the primary light source at dinner time, making it romantic.
There were also improvised candles on the tables fashioned out of used cooking oil.  Since I am interested in anything about the environment, I asked one of the staff – how these were made.  They told me that instead of throwing the used cooking oil to the drain, they use the fatty liquid to light an improvised candle.  All it needs are a container for the cooking oil, a wick from old clothes, and an improvised holder for the wick, maybe an excess of steel wire.
The idea is simple, yet it impacts minimizing waste in the environment.
Our food was great. We had seafood and chicken adobo for dinner. Everyone enjoyed the gastronomic feast while, at the same time, appreciating the company of family with the sunset making its graceful exit.
Lounging at the Beach Front
We made the most of our stay in this paradise. After dinner, most of us adult family members were sharing stories and family anecdotes while drinking beers or shakes on the beachfront.  It is nice that the resort has a bar on the beachfront, selling drinks and light snacks.
This is an added advantage for tourists because sometimes we forget to bring all our stuff and do not know where to buy them since we are unfamiliar with the place.  An in-house convenience store makes it easy for us to buy junk food, hygienic items, and even souvenir items.
Discovering Hinoba-an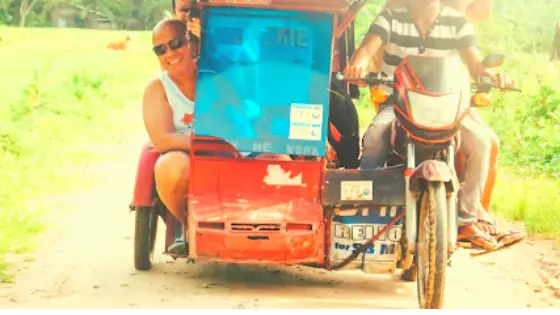 They say that unplanned travel is the most exciting because you visit places you do not expect to be more fun and interesting. And, of course, it allows you to deal with the people and be acquainted with their culture and practices.
Aside from enjoying the magnificent sunset and the VIP accommodation in Brazaville, we also went spelunking at Obong Caves and made a side trip to Satori Cliff in Basay, Negros Oriental.
Read our Spelunking Adventures at Obong Caves and Satori Cliff Visit:
Read Other Family Travels:
Do you travel as a big family, including the extended clan? Please share your experience in the Comment Section below.