SS Number Online Application / You are excited to know the news that HR hired you, and you need to submit many documents before you can start working. You went from one government agency to another. But you can only accomplish some things in a day.
You want to get the documents online, but you need to know how. Good news. The Social Security System (SSS) now requires covered members to go to their online platform to make their transactions.
Is SSS contribution payment mandatory?
No. Only employed individuals and their employers, including self-employed individuals and OFWs, must pay the SSS premium contributions.  In the case of non-employed individuals, they may choose to pay the SSS premium as voluntary-paying members.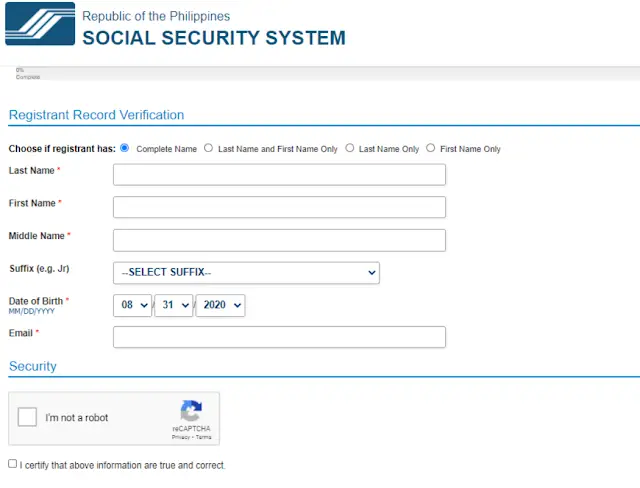 What are the steps to SS number online application?
Here is a quick guide to the online application of SS number.
Applying online can avoid the inconvenience and long queues you usually observe when doing business with a government institution.
Access the SS Number Online Application Follow the instructions and accomplish all fields correctly;
Check your email (which you have keyed in Step No. 1) for the link to continue with your application. Click the link, correctly fill in all the required data in the registration form, and click the "Generate SS Number" button;
Print the email confirmation, which indicates your SS number, a copy of your SS Number Slip, and other instruction to complete the application. Print a copy of your ePersonal Record for reference purposes;
Visit the nearest SSS branch and submit the SS Number Slip with the required ID or documents to complete your application. Your SS Number is placed on "Permanent" status.
Tips:
The link is sent after 30 minutes and will expire in 5 days. Once it expires, you have to repeat Step No. 1;
Review all the information you supplied in the registration form before clicking the "Generate SS Number" button;
The correction, if any, after the "Generate SS Number" button is clicked will have to be done to the nearest SSS Branch;
Your SS Number is on a "Temporary" status until you submit the required ID and other documents;
For married applicants, you should bring a copy of your Marriage Contract and Birth Certificate, if applicable;
For a non-working spouse, you should let them sign on the printed Personal Record Form, signifying that they agree to your SSS membership.
What are the Required ID Cards or Documents for the issuance of SS Number?
Birth Certificate
If the Birth Certificate is not available, any of the following documents:
Baptismal Certificate
Driver's License
Passport
Professional Regulation Commission (PRC) card
Seaman's Book(Seafarer's Identification and Record Book)
In the absence of the above ID card(s), any two of the following, both with the correct name and at least one(1) with a date of birth:
(GSIS) card/Member's Record/Certificate of Membership
ATM Card (with cardholder's name)
Alien Certificate of Registration
Bank Account Passbook
Baptismal Certificate of child/ren
Birth Certificate of child/ren
of Licensure/Qualification Document from Maritime Industry Auth.
Certificate from Office of Muslim Affairs
Certificate from the Office of Northern Cultural Community
Certificate from Office of Southern Cultural Community
Certificate of Naturalization from the Bureau of Immigration
Company ID card
Company Representative Authorization Card(ACR) issued by SSS
Credit card
Firearm License card issued by Philippine National Police (PNP)
Fisherman's card issued by the Bureau of Fisheries and Aquatic Resources (BFAR)
Health or Medical Card
Home Development Mutual Fund (Pag-IBIG) Member's Data Form
ID card issued by (LGUs) (e.g Barangay/Municipality/City)
ID card issued by a professional association recognized by PRC
Life Insurance Policy
Marriage Contract/Certificate of Marriage
Membership card issued by Private Co.
National Bureau of Investigation (NBI) Clearance
Overseas Worker Welfare Administration (OWWA) card
Philippine Health Insurance Corporation (PHIC) ID card/Member Data Record
Police Clearance
Postal ID card
School ID card
Seafarer's Registration Certificate issued by (POEA)
Senior Citizen card
Student Permit issued by Land Transportation Office (LTO)
Taxpayer's Identification Number (TIN) card
Transcript of Records
Voter's Identification card or Affidavit/Certificate of Registration
Related Post:
The Ultimate Guide to SSS Member's Online Registration
5 Registration Options for SSS Online Account Application
Final Thoughts
Lately, we have seen significant changes in how the SSS serves its members. Gone were the days when you must submit many documents to file a claim.
Making your SS number application online is a big help. The processing time is shortened, and the supporting documents are lessened.
With its significant services now digitized, we can expect much more from SSS.