Labrador Retriever / I wrote about our little Shih Tzu in a separate post. This time, I would like to give you a sneak peek of our second dog, a Labrador Retriever. I want to share what kind of dog she is, and how happy we are to have her as Bolt's playmate and an addition to the family.
Related Post: Meet Bolt, Our Furry Ball Shih Tzu
Our Sky is a big dog. You may think she will bite you the first time you meet her? No, you are wrong. Sky is one of the smartest and most loving dogs in the world. Her friendly looks will melt your heart away.
She loves many things. She loves to eat, walk outside, fetch games, and our extra attention.  Sky eats plain dog food or a mixture of dog food and boiled pork meat and pork bones. We can even throw anything edible at her. During mealtime, she patiently waits for food remnants.
This pretty lady loves long walks. She barks the bedroom door to remind me that it is walking time. It is like heaven when she goes outside the house. She sniffs everything that smells differently.
And of course, she does her routine – she poops and pees, not necessarily in that order, though. When everything is done, she continues walking excitedly to find another spot to smell.  She rests after a long walk. Her tongue is sticking out when she feels hot and thirsty.
Labrador retrievers  are active and high-spirited dogs. Sky loves to play fetch. She has extra energy when she is in the mood to play. She runs fast and could easily find the toy even when it is hidden somewhere.  She obeys basic commands, such as sit, down, rotate, go, or up. Sky is the family's sunshine. It is easy for us to meet her daily needs and care. We seldom go to the veterinarian or grooming salon.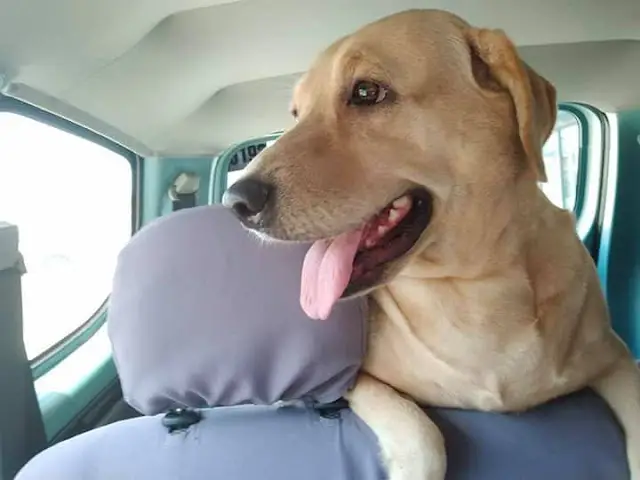 She never growls when our play gets too much. When we see her wagging her tail, that is an assurance that Sky loves us more than we do.
You may read Bolt and Sky's first-ever travel: Lakawon Island Resort and Spa: A dog-friendly Paradise
Do you have pets, too? Please share how you love and care for your furbaby in the comment section below.