Satori Cliff Basay,
Negros Oriental
, is a must-see place for someone who loves nature and extreme water activities. Going to Satori Cliff takes a lot of travel time, around five hours if you are coming from Bacolod City. So, to make your effort more practical, you should include this tourist sight as part of your Hinobaan travel itinerary.
Related Posts:
 In this article, I will discuss the five fun activities to make your Satori Cliff Basay vacation more fun and memorable:
Stroll around and read exciting quotes.
Satori Cliff Basay area is less than a hectare of fantastic rock formations. The cliff, which you can immediately notice is as tall as a three-story building from the viewing deck to the water below.
You will appreciate the benefits of trees in the environment because roaming around the area is a comfortable exercise, and you will read many interesting quotes. Some lines are funny, too; you won't realize you have already covered the whole area by reading all the phrases.
Have a picnic in one of the gazebos.
Be it with family, friends, or special someone, having a cool smoothie and chips  in the open structure is memorable. With the trees and rock formations as a backdrop, you will have much to discuss after visiting Satori.  But you must bring your own food as the lone food kiosk only sells junk food and cold drinks.
Watch the dramatic sunset.
If you are a hopeless romantic or just a sunset lover, watching the sunset unobstructed in the middle of the sea is a rare opportunity.  You will love the bursting of different colors of orange and red as the sun slowly kisses the sea goodbye. The viewing deck overlooking the cliff is the best place to be while watching the sun slowly descend to the ocean floor.
You have a front-row seat view as you watch in awe and take pictures of the sunset on the horizon.
Dive or snorkel in the deep blue water.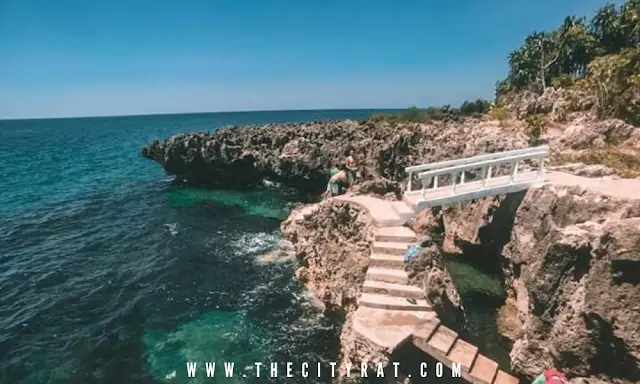 Bring your diving gear and snorkel to do these water activities. The resort's management is not yet offering rentals of this equipment.  While I did not come closer to the seawater below.  Our guide told me that swimmers are treated to a display of coral reefs and many fish species in the water.
Take as many pictures as you can.
Take unlimited pictures to remember your visit here. The surroundings are worthy of an Instagram picture. The photos accompanying this post are not lying.
Final Thought
We communed with nature. The fantastic rock formations and the high cliff of Satori Cliff Basay are exceptional. This is a rare sight and experience for a city dweller like us.  We had so much fun taking pictures and having endless conversations with my siblings, an opportunity we had missed doing for a long time.