The pandemic has affected everyone. Many businesses were closed, and people were jobless.  Thanks to the SSS Unemployment Benefit. Now, we can augment our funds by availing of the new SSS program.
Related Post:  The Ultimate Guide to SSS Member's Online Registration in 2020
How much is the SSS Unemployment Benefit?
The country's pension fund grants all qualified members an amount equivalent to half of the member's average monthly salary credit up to the maximum amount of P20,000.00.
Who are qualified to avail?
Employees, including kasambahays and Overseas Foreign Workers (OFWs) – sea-based and land-based are qualified to apply if the involuntary separation from work is due to the following:
Retrenchment / Downsizing / Redundancy
Closure or cessation of operation
Installation of labor-saving devices
Natural or man-made calamities
Illness / Threatening disease
Additional Qualifying Conditions:
Member should not be over 60 years old at the time of involuntary separation;
Members must have paid at least 36 monthly contributions, twelve months of which should be in the 18 months before the month of involuntary separation;
No record of claimed unemployment insurance for the last three years from the date of involuntary separation.
What are the three easy steps?
Secure the following documents:
Certification of Termination of Employment issued by the Department of Labor and Employment (DOLE) or by the Philippine Overseas Labor Office (POLO);
Notice of Termination of Employment from the employer or duly notarized Affidavit of Termination of Employment
Access your SSS Online account and click the "E-services" button from the main menu and "Apply for Unemployment Benefits" afterward;
Wait for the SSS email advising you to submit the DOLE certification and Notice of Termination of Employment by replying to the email and attaching the documents.
You will receive this email as proof that you successfully encoded your application correctly and received it by SSS accordingly.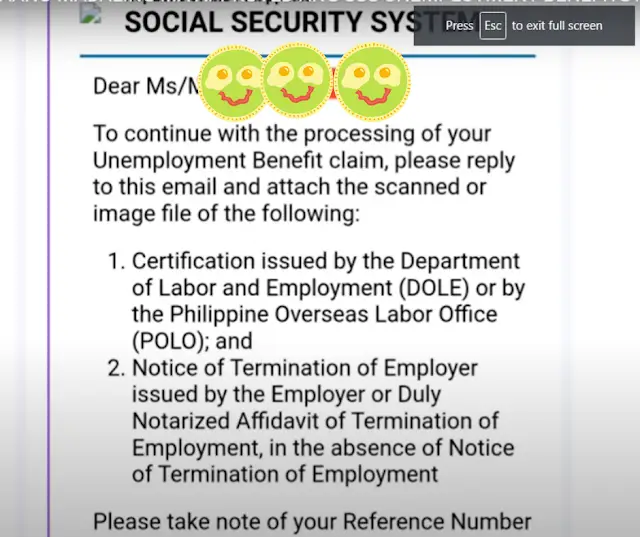 TIPS:
For faster approval, ensure that all the information written for both the documents and the online information is the same, especially for the date and reason for separation.
Only apply up to three times if your applications were rejected for two consecutive tries, so SSS will not stop your account from applying again. Always double-check all the information before hitting the "submit" button.
Final Thoughts
Despite the many not-so-nice things happening around us, we have a lot of blessings to be thankful for.  The Social Security System is slowly becoming a digital giant. It is now easy for us to transact our business within the comfort of our homes.
Remember, the SSS Unemployment Benefit is not a loan; it is a cash grant you can get from SSS if you are eligible. You do not need to pay for it even if you find a new job.
Did you apply for the SSS Unemployment Benefit?  Was it approved? Please share these in the Comments Section.