Spaylater / Are you short of funds, but you need to get that smartphone on Shopee you'd been eyeing for months? With Shopee's Spaylater you can purchase items without necessarily paying the total price outright.
What is SPayLater?
SPayLater is Shopee's innovative feature that allows buyers to buy an item now but pay at a later date or avail of an installation plan that applies to your Shopee purchase.
It works just like any bank credit card. You can buy a big-valued item, such as a TV set or an air conditioning unit but pay on a staggered basis.
And of course, like any other credit scheme, it has a processing fee of 0-2% per transaction and a monthly interest rate of 1-5% per product.
Who is qualified for SPayLater?
SPayLater is  available for qualified Shopee users only.  To check if you are eligible, follow these steps:
 Go to the Shopee app;
 Press the "Me" tab;
 Look for the "My Wallet" on the profile page;
 Check if the "SPayLater" tab appears. If not, then you are not yet qualified for a SPayLater account.
How to activate your SPayLater?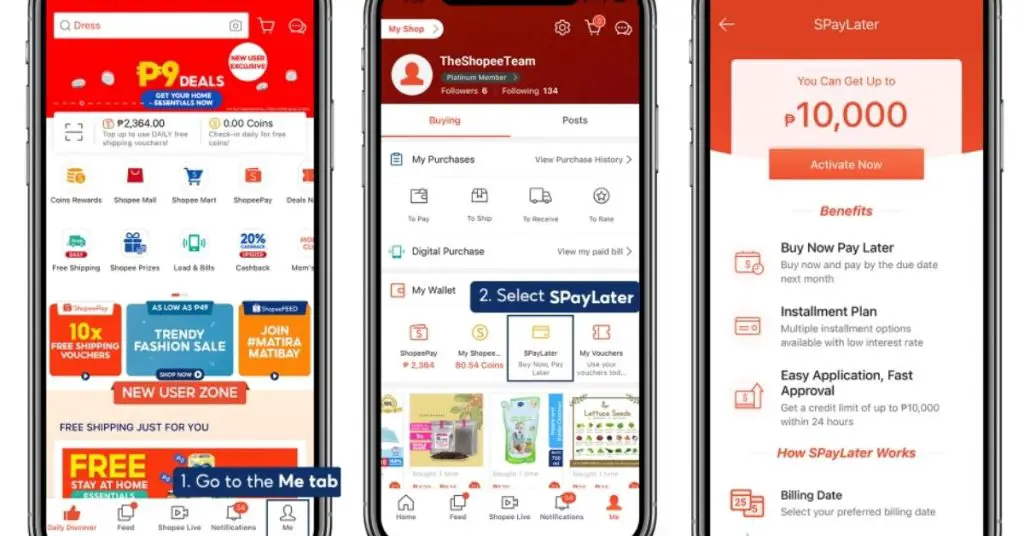 If you are qualified for SPaylater, activate the feature by following the steps below:
Activate and Encode the OTP
 Access the "SPayLater" tab on the Profile Page;
 Click "Activate Now";
 Encode the One-Time-Password (OTP) sent by the system to your registered mobile number;
 Press "Continue";
Upload a valid government-issued ID
 Upload a valid government-issued ID and fill in the required data;
Acceptable government-issued IDs:
Driver's License
UMID
Passport
Postal ID
PRC ID
Philsys ID
Click "Confirmed"
Fill in the SPayLater Application Form
 Fill in the SPayLater application form with the necessary personal information;
 Tick the boxes indicating your agreement to SPayLater's terms and conditions, fee structure, and data privacy;
 Press "Confirm";
Start Facial Verification
 Shopee will direct you to the Facial Verification Menu. Click the "Start Facial Verification" and follow the facial gestures instructions as it appears on the screen;
 If the facial verification is successful, you will receive a message indicating that you have successfully activated your SPayLater account.
Amazing Deals at the 4.15 Payday Sale
In times like this, you should be financially smart. Activate your SPayLater privilege now and grab amazing deals at the 4.15 Payday Sale. With SPayLater you can avail of Shopee's 12-month installment plan, which won't dent your monthly budget.
You can score as many household essentials as possible without depleting your savings at once. Visit Shopee and check out your items now.