Buying your dream house without stepping out of your home is now possible. Here is a quick guide on purchasing real property from Lumina Homes.
Owning a house is every Juan's dream. But achieving that dream requires a lot of patience and effort. After all, who would want his hard-earned money  go down the drain.
Not only do Filipinos dream of staying at home they can call their own. Foreigners have real estate properties in the Philippines, too. Some are already based here and are happy living with us because of our hospitable and friendly nature.
If you are planning to get a house and lot and don't know how to start, Lumina Homes has made it easy to make a house and lot reservation online.
Related Post:  5 Financial Benefits of Real Estate Investment
Latest and Practical Innovation in Real Estate
From school to work and shopping, everything is now digital. This is the practical reality.  You can even buy your next property over the phone and internet.
With secure payment options in place and if you are dealing with trusted developers, buying online is very safe.
How to Reserve a Lumina home online?
Making an online reservation is easy and convenient. You don't need to go to the project site to take a tour and select your preferred house model.
Likewise, paying for reservation fees and monthly amortizations are done online. Here's a quick guide on making that move and your dream a reality.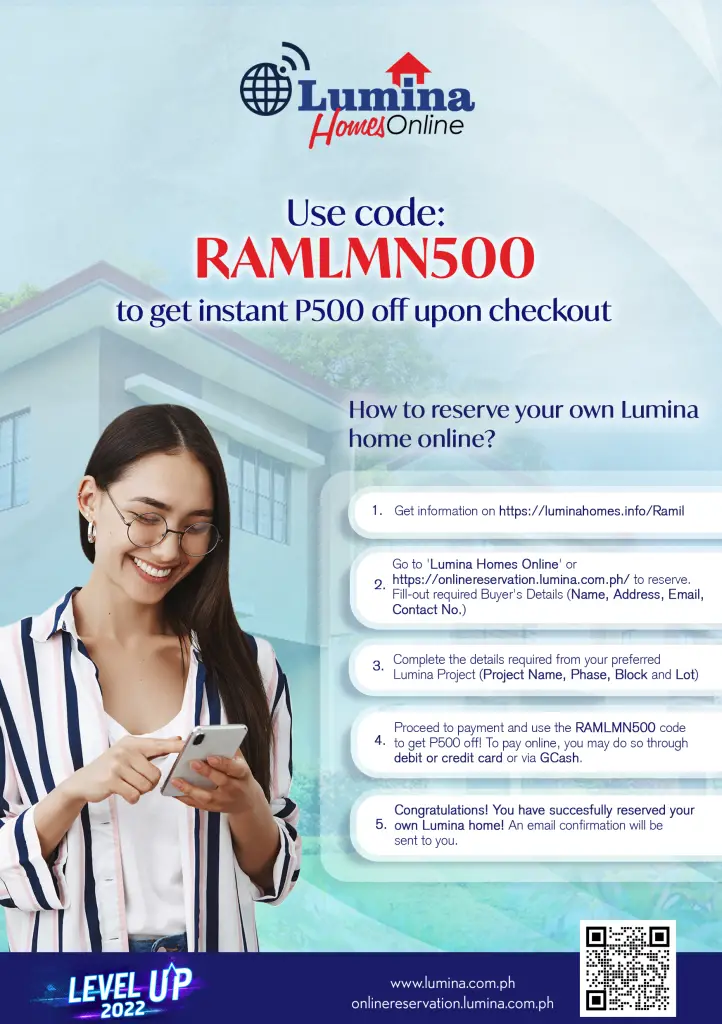 Go to the Property Listing page by clicking here.
Visit the Lumina Homes Online page to reserve. Fill out the Buyer's Details – Name, Address, Email, and Contact No.;
Complete the details ofyour preferred Lumina project – Project Name, Phase, Block, and Lot No.;
Proceed to payment and use the Discount code: RAMLMN500 to get 500-peso off. Pay using your Debit or Credit Card or Gcash account;
Congratulations! You have successfully reserved your own Lumina home. Lumina Homes will send an email confirmation to you.
 Final Thoughts
Purchasing a property is not an overnight decision because it involves your hard-earned money. It takes a lot of preparation.
Always see that you are dealing with a certified real estate developer to protect you from fraud and legal suits. Do not rush. Study all the papers.
You can never go wrong with Lumina Homes. Lumina Homes has over 50 developments in key locations across the country: Rizal, Bulacan, Pampanga, Bataan, Zambales, Nueva Ecija, Tarlac, Pangasinan, La Union, Cagayan, Isabela and Cavite.
The property giant has housing projects in Batangas, Laguna, Quezon, Camarines Norte, Albay, Sorsogon, Iloilo, Capiz, Cebu, Negros Occidental, Agusan del Norte, Zamboanga del Sur, Bukidnon, Misamis Occidental, Davao del Norte, Davao del Sur, and South Cotabato.
Reserve a house and lot now and be a proud Lumina Homeowner.