Looking to buy essentials and equipment for your home? Ace Hardware has got you covered with up to 50% off deals only on Shopee's 7.7 Mid-Year Sale!
Ace Hardware is our go-to place for almost everything related to home improvement. From paint and lighting to a bathroom fixture, this every handyman's ally has everything I need.
I like that Ace Hardware offers popular and trusted products, so we are assured that we get the best value for our money. Plus, the items are replenished as soon as the shelves become empty, giving us the latest products in the market.
I stumbled upon their official store on Shopee recently. I lost no time in checking the page. Here are the top three items you should check out this coming 7.7 Mid-Year Sale.
Lifetime 4ft. Folding Table (Dark Grey) #80612
This high-density polyethylene table top has a powder-coated steel frame and is UV-protected and weather resistant. The table measures 123 x 61cm and stands 74cm high.
A space-saver, this kitchen essential can be used as a backup table during family gatherings and other occasions.

Daimaru Insect Killer BT 2X10W-Black
Say goodbye to mosquito bites with Daimaru Insect Killer. This device is perfect, especially now that the rainy season has started in the Philippines. Indeed, protection is an investment that lasts a lifetime.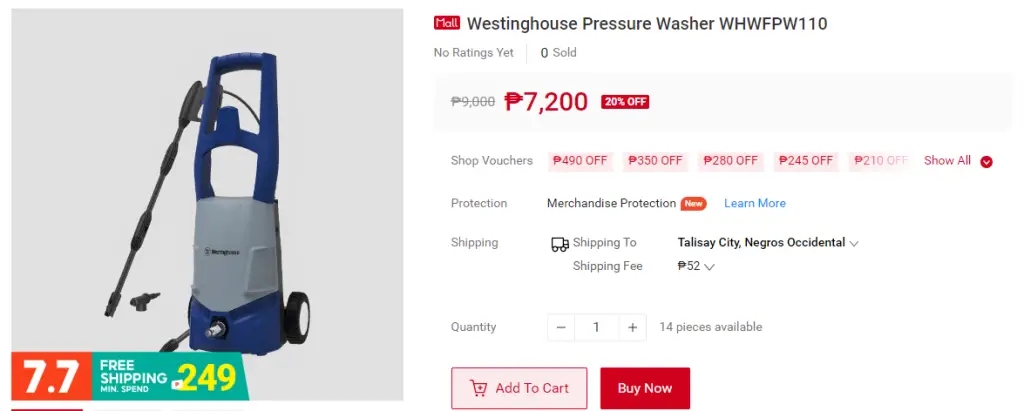 Westinghouse Pressure Washer WHWFPW110
Clean your car and other household corners like a pro.  Buy this valuable tool for washing and cleaning which is designed for an easy and convenient cleaning experience.   It has the muscle to scrub away mildew, grease, oil, tar, mud, rust, and more for all household surfaces with pure scouring force.
Check out the product's specifications below.
Max Pressure: 110 Bar
Maximum flow rate (l/min): 6.5
Pressure (MPa): 7.4
Power (kW): 1.4
Ace Hardware always has your back when it comes to home and outdoor needs. Check them out on Shopee's 7.7 Mid-Year Sale and enjoy up to 50% off on select items!
SHOPEE 6.6-7.7 MID-YEAR SALE
Celebrate the mid-year with P66 and P77 deals, shipping discount vouchers, and 10% off daily at the Shopee 6.6 – 7.7 Mid-Year Sale!
If you have a home project you're excited to finish or planning to upgrade and maintain existing features, Ace has you covered with exciting deals on everything you need for a beautiful, well-functioning home.