Filipino Christmas / As a proud Pinoy, I've always loved the unique and sometimes bizarre traditions that come with celebrating Christmas in the Philippines. From the colorful parols (lanterns) to the endless rounds of Noche Buena feasts, there's no denying that Christmas in the Philippines is a truly special experience.
But as much as I love these traditions, there are definitely some that are a little bit… well, very Pinoy. Here are eight of the most unique Christmas traditions that I've come across over the years:
Simbang Gabi (Midnight Mass)
If you've ever been to the Philippines during the Christmas season, chances are you've heard of Simbang Gabi. This series of Masses, held at dawn during the nine days leading up to Christmas, is a beloved tradition for many Filipinos.
However, the fact that they take place at the ungodly hour of 4am means that it's common people to fall asleep during the service. So, if you're planning on attending a Simbang Gabi, make sure to bring a strong cup of coffee (or three).
Misa de Gallo (Rooster Mass)
Speaking of Mass, another strange Filipino Christmas tradition is the Misa de Gallo (Rooster Mass). This Mass, which takes place at dawn on Christmas Day, is so named because it's supposed to coincide with the time when roosters start crowing.
It's a popular tradition for those who have been waking up early for the Simbang Gabi series, as it's the final Mass before Christmas Day.
Belen (Nativity Scene)
Most Filipino families set up a Belen, or nativity scene, in their homes during the Christmas season. However, some families take things to the next level by creating elaborate and sometimes bizarre displays.  I've seen Belens featuring everything from life-sized figures to miniature train sets. And while they're definitely a sight to behold, they can also be a bit overwhelming (especially if you're not a fan of crowds).
Parol (Lantern) Making as a Filipino Christmas tradition
Another beloved Filipino tradition is the creation of parols, or lanterns, which are used to decorate homes and public spaces during the Christmas season. While there are many different types of parols, some of the most elaborate ones can be quite a sight to behold.
From parols shaped like stars and Christmas trees to those adorned with intricate designs, these lanterns are a true testament to the creativity of Filipinos.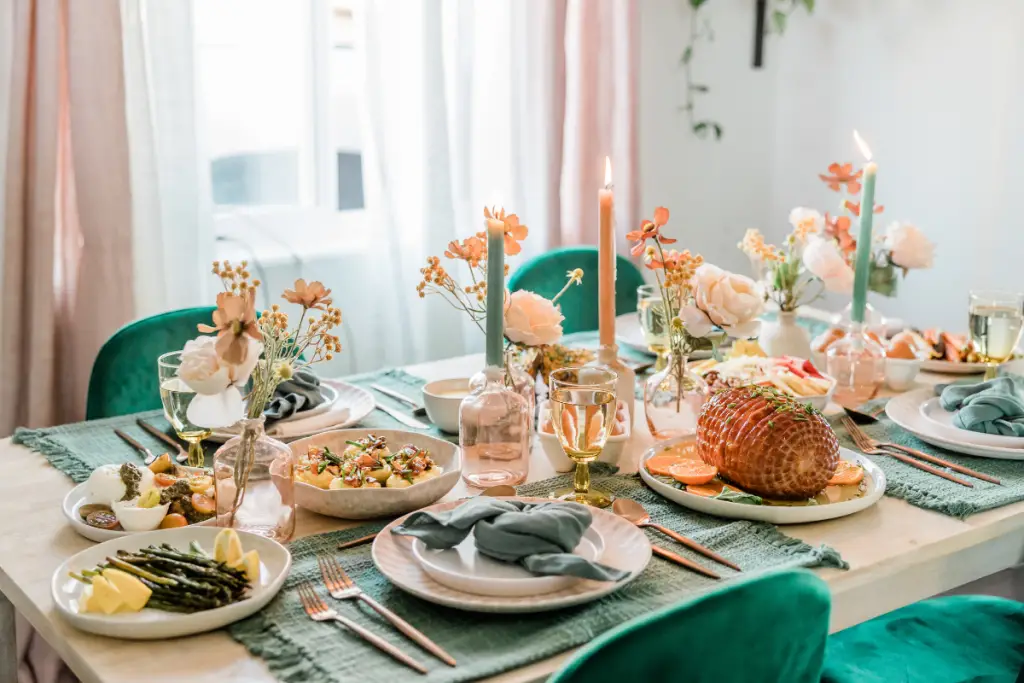 Noche Buena (Christmas Eve Feast)
No Filipino Christmas is complete without a feast on Christmas Eve, known as Noche Buena. This tradition involves families gathering around the table to enjoy a spread of delicious dishes, ranging from lechon (roasted pig) to queso de bola (a type of cheese shaped into a ball).  It's definitely a time for indulgence, but be warned: with so many delicious options on the table, it's easy to overdo it.
Media Noche (New Year's Eve Feast)
While Noche Buena is a tradition that takes place on Christmas Eve, many Filipinos also celebrate Media Noche, or New Year's Eve, with a feast of their own. This feast is similar to Noche Buena, with families gathering around the table to enjoy a spread of delicious dishes.
However  Media Noche tends to have a bit more of a festive atmosphere, with people staying up late to ring in the new year. And if you're not careful, you might find yourself with a food coma come New Year's Day.
Filipino Christmas / Caroling (Pamamasko)
Caroling, or "pamamasko," is a beloved Christmas tradition in the Philippines. It involves groups of friends or family members going door-to-door singing Christmas carols and songs, often dressed in matching outfits or costumes. The carolers go from house to house, spreading holiday cheer and hoping to receive a small gift or monetary donation in return.
Caroling is a popular activity in the Philippines, especially among children and young people. It is a way to celebrate the holiday season and bring joy to the community. The carolers often sing traditional Christmas carols in English, as well as Filipino holiday songs such as "Pasko na Naman" and "Ang Pasko Ay Sumapit."
Secret Santa (Monito or Monita)
In the Philippines, Monito or Monita is a Christmas tradition in which one person secretly buys small gifts for another person and leaves them anonymously. The person receiving the gifts is called Monito or Monita, which means "little brother" or "little sister" in Spanish.
This tradition is similar to Secret Santa, and it is a way for people to show appreciation for their friends and loved ones during the holiday season. The gifts can be small and inexpensive, such as chocolates, sweets, or small trinkets, and they are usually left in a designated area for the recipient to find. Monito or Monita is often practiced in schools, offices, and other groups, and it is a fun and festive way to get into the holiday spirit.
Filipino Christmas / Final thoughts
As a Filipino, I'm always struck by the unique and sometimes humorous Filipino christmas traditions that come with celebrating Christmas. From the early morning Masses and elaborate nativity scenes, to the festive feasts and quirky gift exchanges, there's no denying that Christmas in the Philippines is a truly special experience.
While some of these traditions may seem strange to outsiders, they're all part of what makes the holiday season in the Philippines so special. Whether it's the warmth and joy of gathering with loved ones, or the sense of community and tradition that these celebrations bring, there's something truly special about celebrating Christmas in the Philippines.
So, to all my fellow Filipinos (and anyone else who celebrates Christmas in the Philippines), I hope you have a wonderful holiday season filled with all the joy, love, and (of course) wacky traditions that make this time of year so special. Pasko na!