Want to cut down on sugar without sacrificing flavor? Look no further! The Zolele Low-Sugar Rice Cooker ensures your rice comes out fluffy, fragrant, and with 30% less sugar. Delicious and guilt-free!
Have you ever felt like you were stuck in a never-ending cycle of dieting, with little to no improvement? Trust me, I've been there too. Counting calories, sacrificing taste, and surrendering to bland meals can be disheartening. But just when I was on the verge of giving up, I stumbled upon a culinary game-changer that reignited my hope for a healthier lifestyle: the magnificent Zolele Low-Sugar Rice Cooker.
In a world where processed foods and sugary temptations surround us, finding a practical solution that supports our dietary goals can seem impossible. That's why discovering the Zolele Low-Sugar Rice Cooker was like finding a treasure chest of culinary possibilities. This remarkable appliance not only promises perfectly cooked rice but also offers a low-sugar alternative that doesn't compromise on flavor.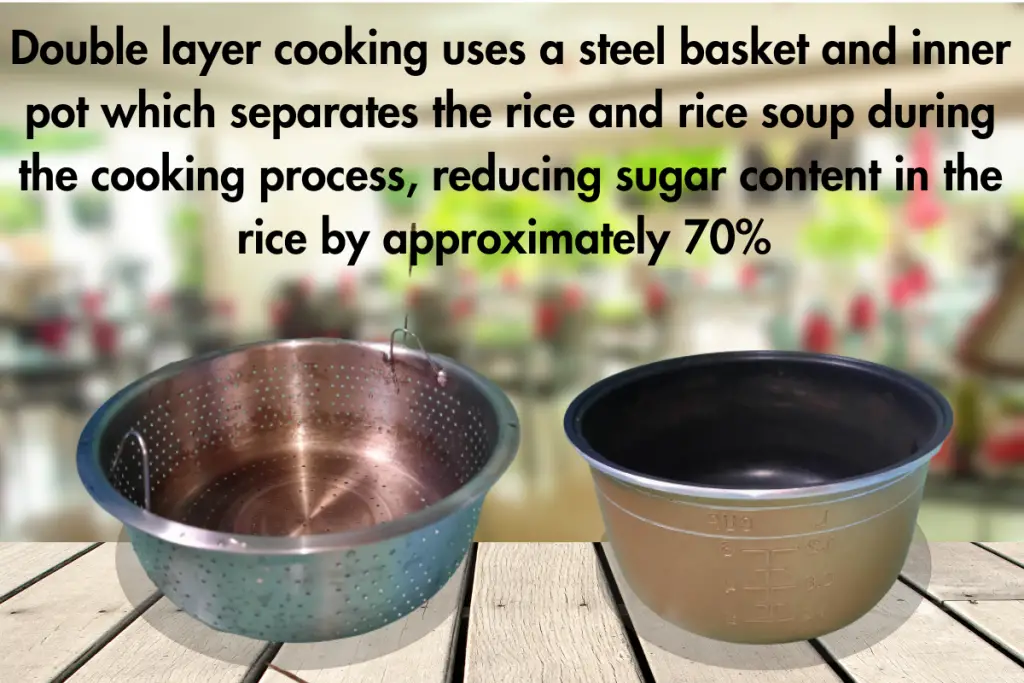 Works like a traditional rice cooker but with added features
One of the things that immediately impressed me about the Zolele Rice Cooker is how incredibly user-friendly it is. If you're familiar with using a traditional rice cooker, you'll feel right at home with this modern marvel. 
The interface is intuitive and straightforward, making it a breeze to operate. Simply add your desired amount of rice and water ( 3 cups rice: 10 cups water ratio), select the "low-sugar" setting, and let the Zolele Rice Cooker work its magic. No complicated instructions or advanced cooking skills required. 
It's like having the convenience of a traditional rice cooker with the added benefits of low-sugar cooking. Whether you're a seasoned chef or a novice in the kitchen, this easy-to-use appliance will have you creating perfectly cooked, low-sugar rice dishes with confidence and ease.
Additional Functions
The Zolele Rice Cooker is a powerhouse when it comes to functions and versatility. Its design is focused on health and convenience, ensuring that you can create a wide range of delicious and nutritious meals effortlessly. Let's take a closer look at the incredible functions this kitchen wonder offers:
Healthy Double Inner Po

t: The Zolele Rice Cooker features a double inner pot system that consists of a non-stick aluminum pot and a 304 stainless steel basket. This combination ensures optimal cooking results while maintaining the healthiness of your food.


Rice Cooking:

At its core, the Zolele Rice Cooker excels at cooking rice to perfection. Whether you prefer white rice, brown rice, or any other variety, this cooker has got you covered. Say goodbye to undercooked or overcooked rice, as this appliance knows just the right balance to achieve fluffy and flavorful results.


Soup Making:

In addition to rice, the Zolele Rice Cooker allows you to prepare hearty and nourishing soups. With its multi-functional intelligent control design, you can simmer your favorite soup recipes to perfection, infusing flavors and creating comforting meals with ease.


Low-Sugar Rice

: For those mindful of their sugar intake, the Zolele Rice Cooker offers a specialized low-sugar rice cooking function. This feature reduces the sugar content in the rice while still delivering delicious results. You can enjoy guilt-free, low-sugar rice without compromising on taste or texture.


Steamed Cake:

Who says a rice cooker is limited to just rice? With the Zolele Rice Cooker, you can explore your baking skills by making steamed cakes. The gentle and precise cooking environment ensures that your cakes turn out moist and fluffy, satisfying your sweet tooth with homemade treats.


Hot Pot:

Craving a hot pot experience in the comfort of your own home? The Zolele Rice Cooker has you covered there too! Its multi-functional design allows you to prepare delectable hot pot meals, creating a shared dining experience with family and friends.
How does the Zolele Low-Sugar Rice Cooker works?
The Zolele Rice Cooker employs a technical principle known as double layer cooking, which separates the rice and rice soup during the cooking process. This unique approach significantly reduces the sugar content in the rice by approximately 30% and starch by 50%, allowing you to enjoy a healthier version of this beloved staple. 
Where to purchase the Zolele Low Sugar Rice Cooker
If you're as excited as I am about the incredible Zolele Low Sugar Rice Cooker, then I have some fantastic news for you. You can now get your hands on this game-changing kitchen gadget through Shopee, and I have an exclusive affiliate link just for you – https://shope.ee/3AdUVrWfvV 
Happy shopping and happy cooking!