We had been to Sodam several times. But I never had the time to write about our experience there.
Last Sunday was different. I was excited to eat samgyupsal again. We visited some Korean restaurants, but the unlimited bundle is a bit pricey. So, we indeed up at Sodam, the food is excellent, and the price is reasonable.
First off, a friendly staff met us at the door entrance. She brought us to a table at the farthest end of the room. That was a perfect spot since we sat with our backs on the wall.
At least, our virus exposure is limited to only those facing us, which the group maintained at a considerable distance.
Sodam never changed their samgyup price since we came here in 2019. Though there were variations on the side dishes and appetizers, the main entrees of pork belly, beef, and chicken meat remain the same.
What is Samgyupsal?
Spelled "samgyeop-sal" in Korean, Samgyupsal means pork belly. The meat is grilled on a slanted metal griddle with charcoal or convex gas burners at the diner's table. The diners can grill the meat themselves and eat directly from the grill.
Unlimited Samgyupsal's Side Dishes
The staff took our orders and arrived later with 12 appetizers and side dishes. I liked the Korean Japchae, which is sweetened noodles mixed with vegetables and meat. Think of the side dish as the Filipino version of Pancit or Bijon. Kimchi, pickled radish, and caramelized sweet potatoes are my favorites, too.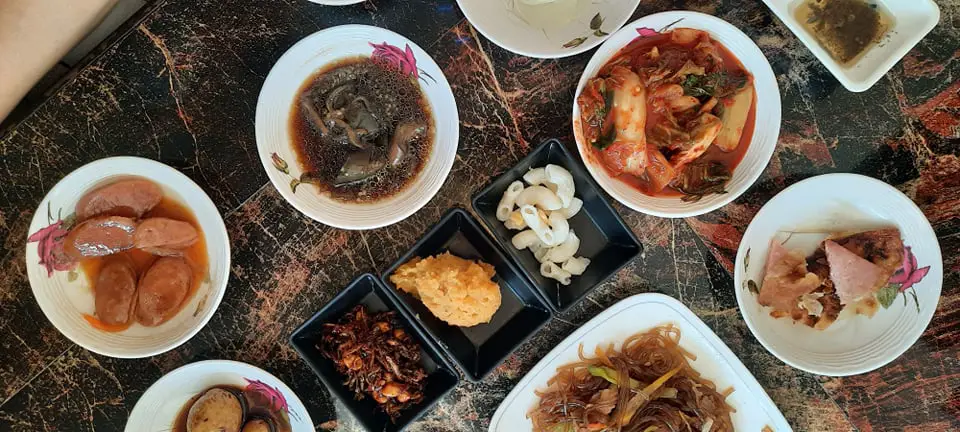 Unlimited Pork, Beef, and Chicken Meat
While we were half-through eating most of our appetizers, the staff arrived with two plates of thinly sliced pork belly, marinated beef, and chicken meat.
We gamely grilled the meat, flipped it over, and cut them with our tongs. And of course, we ate with gusto. I forgot everything while eating what Sodam offers for a reasonable price of P299.
Where is Sodam located?
Sodam Korean Restaurant is located along Lacson Street, near San Antonio Abad Church.
Telephone Number: (034) 432 6357
Business Hours: 11 AM to 9 PM
Final Thoughts
If you love affordable and authentic Korean Food, Sodam is the perfect place for you. They have lots of food choices, and you get the best value for your money. Go there with an empty stomach. Take that from me.
Update
Sodam Korean Restaurant has opened a new branch located at Shophouse Heritage Building, fronting Robinsons Triangle Plaza.  The unlimited samgyupsal meal starts at 399 pesos.  It is a lot better and cleaner than its old counterpart along Lacson St., near the San Antonio Abad Church.  The restaurant is under a new owner.