Tractor Cafe Talisay Bacolod  is an open-air restaurant that serves your favorite Filipino and international dishes located along a stretch of sugarcane field giving you a feel of farm life in the city.
Have you experienced dining inside a junkyard, with tables and chairs fashioned out of vehicle parts? We have found a new eating place utterly different in looks from the usual aesthetics we always appreciate in a restaurant or cafe.
When you enter Tractor Cafe, you will immediately noticed the relaxed atmosphere because of the lush foliage from the big trees that are so many inside the cafe. The tables, which the cafe shop recycled from old vehicle parts, and chairs are randomly arranged, which suggests an informal dining style.
The main building of the cafe looks like a bodega or junk shop, reminiscent of the good old days of the sugar industry, wherein the bodega was used to keep farm equipment and tools.
You can see old toy car models, old transistor radio, an analog telephone unit, an old TV set, and a lot more inside the main building.  You will appreciate a little bit of Negros history in this place.
Tractor Cafe's extensive menu is one for the books. They have your favorite Filipino comfort food and international dishes, too. You should not leave Tractor Cafe without trying their smoothies and cold drinks.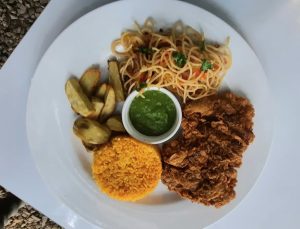 When it comes to food, I always try out new dishes when visiting a restaurant for the first time. I ordered this foreign-sounding name Grande Chueta de Cerdo, a set meal of breaded pork chop, tallarin saltado ( fried spaghetti noodles), fried potatoes, onion rings, rice, and a glass of iced tea.
I am happy that the dish came out as I expected it. The pork chop was perfectly fried; it was crispy. The meal is loaded with carbo, so if you are conscious about your diet, better not go for this meal.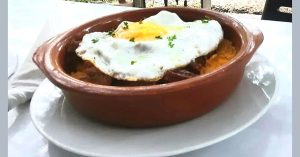 We also ordered Beef Gyudon, Danggit Breakfast Meal, Berry Berry Strawberry Smoothie, Coffee-Raf, and Ube Cheesecake with Polvoron Crust.
Beef Gyudon is a Japanese rice bowl of sliced beef simmered in onions, sweet sauce, and a sunny side egg. Meanwhile, Danggitsilog is the no-fuss breakfast meal of all time. It is served with a sunny-side-up egg, rice, and pork and beans.
The first time I heard it, Tractor's Cafe's Coffee Raf came out as creamy sweet with a lemony aftertaste. The Berry berry smoothie is indeed smooth and light, while the Ube Cheesecake tasted differently because of the polvoron crust.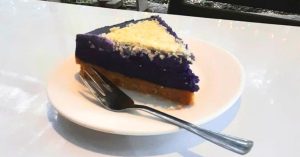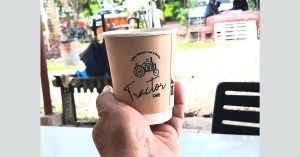 Final thoughts
Visit Tractor's Cafe if you want a new place to bring your family or friends for lunch or dinner. It is open-air dining, which is highly recommended considering that we are still in the pandemic.
The place is so relaxing. You and your friends can eat your favorite comfort food and coffee under an acacia tree while talking about anything. The cafe's food choices are varied; If you don't know what to eat, ask for the bestsellers, and the staff will gladly assist you.
A word of caution, though: the food are pricey.  But I tell you, it's all worth it.
Tractor Cafe Talisay Bacolod is located at Hacienda Sta. Maria, Talisay City, beside The Ruins, Talisay City, Negros Occidental.