Guimaras Tour / They say that unplanned travel adventures are the most memorable and happiest. That was what exactly happened when South Bacolod General Hospital and Medical Center, Inc. (SBGHMCI) – Accounting Section ventured into a road trip to the province of Guimaras with few days of preparation and limited resources for their annual summer activity. 
This yearly time-off from office works is part of the hospital's program to promote work-life balance of the employees.
Traveling on a budget allowed travel hunters to find ways to get the most out of their hard-earned money. Sharing of expenses, getting the lowest prices for an item, haggling and planning make a difference in saving that extra pesos which could be used to buy pasalubongs for their loved ones back home.
Here are our Guimaras tour, which may help your summer outing in Guimaras extra memorable without the guilt of having to spend on unbudgeted expenses.
Transportation
Taking the Bacolod-Iloilo-Guimaras route is long and expensive. Considering the limited time and budget, the team took the Pulupandan route which saves us a few hundred pesos and around three hours travel time.
Haggling or "ayo" is important when it comes to expenses. The group hired a van that would fetch us from the port to the hotel and some side-trips along the way, which cost P 1,000.00.
However, the team wanted to visit as many tourist spots as possible, so we haggled to add another P 1,000.00 for the extra stop-over. The standard van rental rate is P3,500.00 for a day tour, but we got it for P 2,000.00, saving us P1,000.00 on transportation.
Resort Accommodation
It always pays to make advance reservation because one can get his preferred room arrangement as a large chunk of our budget went to the resort expenses.  The team made the resort reservation about three weeks before our scheduled trip and fortunately, the large room which can accommodate 8-10 persons is still available.
This air conditioned room and the extra foams made our weary souls rested enough for the long road travel the day before. Aside from getting the best price for the shared room, it allowed us to have long conversations with our work mates and gave us a glimpse of each other's personal life.
A room for two persons was also occupied for our couple-companion, which was charged to their personal account, since this is not part of the team's budget.
Tourist Sites
Guimaras offers so many places to visit – from their famed beach resorts, historical monuments or old churches, or you may opt to try their world's famous mangoes. Wherever you may want to visit or whatever you want to do, it is always advisable to plan your itinerary ahead of time.  Here are the places worth-visiting while on Guimaras tour:
San Lorenzo Wind Farm
To make the most of our time, from the port, we proceeded to the town of San Lorenzo, the home of the famous San Lorenzo Windmill. These giant windmills, about 27 of them, produce renewable energy and are serving the electricity needs of the towns and its neighbors.  We made a lot of selfies and groupies here with the huge machine as the backdrop.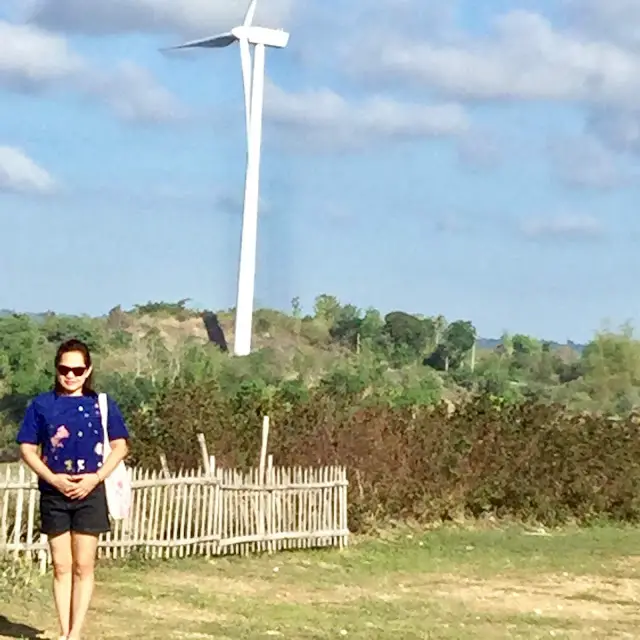 Manggahan Festival
Our second stop was in Jordan Capitol Ground, the host of the Manggahan Festival. We saw an agro fair exhibit and plenty of mangoes arranged beautifully, which tempted this writer and his wife to go back in the afternoon to partake of their Mangoes-All-U-Can, wherein you can binge on mangoes – ripe or not (with bagoong on the side) with bare hands for P120.00.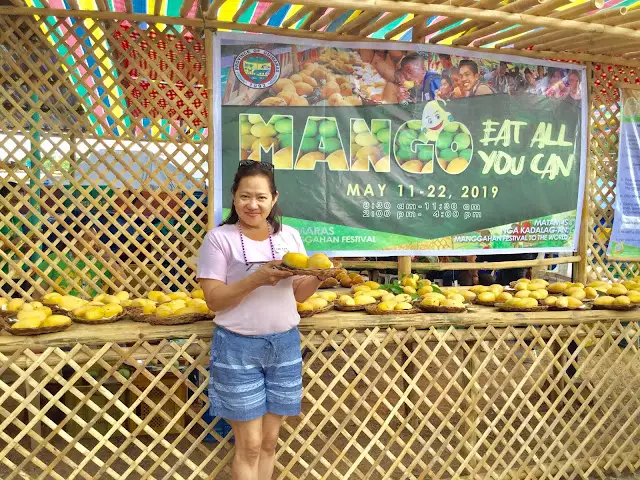 Guisi Lighthouse
Next, the group visited the Guisi Lighthouse. These are the ruins of the famous lighthouse which guides navigators at night time during the Spanish era. Situated on the hilly portion, one can see the vastness of crystal clear blue waters of the sea.
Going down a man-made stair of about 100 steps, tourists can take a dip in the cool waters of Guisi Beach Resort nearby.
This signage allows visitors to know the historical significance of the Guisi Lighthouse
Alobijod Cove Resort and Raymen Beach Resort
Our last stopover was in Alobijod Cove Resort and Raymen Beach Resort. Next to each other, both resorts offer rooms at affordable prices without sacrificing the basic amenities of a standard hotel.
The beachfront is breathtaking with a very nice view of the sunrise and sunset and white powdery sand. If you do not want to get a tan, ideal swimming time is between 4 PM to night time and from sunrise to around 9 AM.
Island Hopping
Some members of the group went island hopping. These islands can be accessed by small pumpboat for a minimal fee and are best for exclusive swimming, snorkeling and even cliff diving.
Some islands waiting to be discovered are Ave Maria Islet, Tatlong Pulo Beach, Buho Ramirez Cave, Taklong Island and a lot more.
Trappist Monastery and Gift Shop
Before heading home, the SBGH personnel dropped by the Trappist Monastery and gift shop. The monastery is a quiet place to reflect and say a prayer or maybe light a candle.
If you are lucky, you may find the monks at the monastery during their scheduled prayer. This writer was told that visitors were not allowed to talk to the monks.
The group bought some delicacies and trinkets from the gift shop. Tourists may find all the food stuff the whole of Guimaras offers plus all kinds of products made from mangoes – piayaya, dried mangoes, mango jam, mango crinckles, mangoscoth (variation of butter scotch), etc. The shop also sells religious and novelty items, perfect as pasalubong.
The Trappist Monastery is haven for the weary souls, which is ideal for retreats and teambuilding activities
Food
Every traveler's mantra is – travel light. Nevertheless, one should make an exception if one is traveling on a budget. Bringing food stuff and pre-cooked meals is practical ways to reduce costs.
It is also wise to eat in the resort's canteen or buys meat or fish for grilling. This recipe does not require complicated preparation and utilizes few ingredients. Plus, spending in front of the grille with team members allows for endless bonding moments, which rarely happens in the office.
Small but Terrible
Guimaras is a small province comprising five towns. However, it should not be underestimated when it comes to its tourist attractions.  It is not only the world-famous mangoes but the pristine clear waters of its beaches, uncrowded islands and the friendly and charming smiles of the people that will make your travel extra special.
The SBGH Accounting personnel went home energized and just like Guimaras, it promises to continue to bring smiles to the people in the workplace.