Discover one of the hidden treasures of Talisay City, Negros Occidental.  Spend a relaxing day at Selloum Cafe.
Talisay Garden Cafe/You need not travel that far to experience drinking the best native coffee and dining with a fantastic view of the mountains and lush vegetation. Please read about this exclusive-for-reservation-only cafe that we have discovered recently.
We explored my hometown, Talisay City. And we decided to be more adventurous this time. So, off we went to the mountainside of Talisay and traversed the path leading to Barangay Concepcion, a place famous for its luscious and sweet lanzones. Our destination: Selloum Cafe.
Getting to Selloum Cafe is a bit of a challenge. There are portions of the roads that are not concrete and narrow. And an area is too steep, so you should be extra careful when passing this part of the road.
Luckily, our SUV could pass the narrow path since, at any given time, only one vehicle could pass the road. Thanks to the local barangay traffic police force. They ensure that incoming and outgoing cars flow orderly and smoothly.
While you may have a bumpy ride, you will be treated to scenery you can never see in the city – dense forest, tall acacias lining the street, sugar cane fields, rooster farms, a panoramic view of the mountains, fresh air, and Selloum's good food.
What did we order for lunch?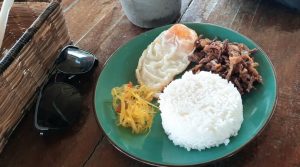 Adobo Flakes – a combo of chicken and pork adobo flakes, organic egg, rice, and achara
Chicken Fingers – fried chicken fillet shaped as fingers with mustard-mayo dip
Grilled Chicken Pesto – grilled chicken with creamy pesto sauce, rice, and buttered corn
Nacho Bowl – One of the cafe's bestsellers, Nacho bowl is homemade nacho chips, ground beef, and cheese sauce salsa
Kamote Fries – thick-cut sweet potato fried to perfection
Buko Pandan Salad – young coconut meat, nata de coco, and condensed milk
Iced coffee – best seller/signature iced coffee blend
What more can you ask for?  We had lunch with Mother Nature. We took so many pictures and we just enjoyed the food and scenery.
Talisay garden cafe / Plan to visit Selloum Cafe and experience nature at its best?  You must make a reservation via their messenger account – Selloum Cafe. They limit the number of guests at any given time since the whole area is small.  Never go there without a reservation to avoid being turned down, and you will waste your time and efforts.
Selloum Cafe is located in Sitio Mambucano, Brgy, Talisay City, Western Visayas, Philippines.